Use code TAKE20 for 20% off all products until the end of September!!
Login
Log in if you have an account
Dont have an account? Register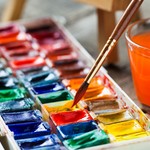 Watercolour Paint
Watercolour paint consists of fine pigment particles suspended in a water-soluble binder (adhesive substance). It is usually used on paper. As watercolour is semi-transparent, the white of the paper gives a natural luminosity to the washes of colour.